Team Anima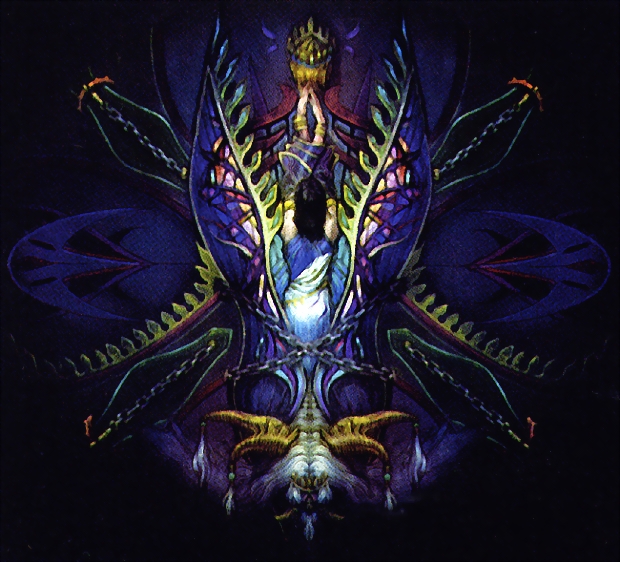 Anima was created for one purpose- to control humanity, to go beyond strictly enforcing rule upon the living populace. To have the power of gods. In Team RP VI of course.
The group was formed by leader Kenshin Meynard, the son of two rich and completely ignorant parents. After a lonely childhood, Kenshin took up the dark arts in his free time, stricken with awe at its amazing power and potential. He took a particular liking to the dark aeon Anima, mercenary of war to the evil god Smith, and devoted his religious life to possessing and summoning Anima to hopefully gain power and then use evil magicks to manipulate life itself. After gaining a strong following due to his parents' monetary funds, Kenshin believes it is now time to act upon his desires.
We only act in secrecy. Our members are completely bond to our group, eternally brothers having taken many a blood oath and donating their life to the cause at hand- to summon Anima.
Recently, a rift has formed in the coalition as to how to use the power of life manipulation- some disagree with the originally intended plan of using it for power, and instead want to alter humans so that they will be more perfect. These members are called the Kitsune, as they hope to use the power of Anima for good. They are gaining more and more power within Team Anima and hope that their leader will agree with them someday.
We are also all big fans of Reh Dogg.
WE NEED YOUR HELP. JOIN US AND WE CAN WIN AND STUFF.
Sign-up Form:
Name-
RP Experience-
Reason for joining-
Members
Team Leader- karmachameleon
(Position 2)-
(Position 3)-
(Position 4)-
(Position 5)-