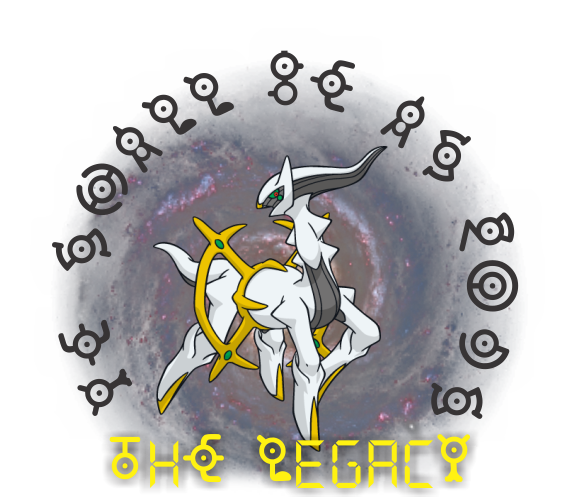 The Pokemon Elite Branch

The Legacy is a place for the greatest battlers in the world, to gather together and battle, in hope of leaving their Legacy, which will be remembered for Generations! Only the strongest can survive here, while the young and inexperienced will be trained to become the next great warriors.
1.) Please no hacks. You will have 3 chances; after that you will be ejected. If you are found guilty of using them in a tournament you will be immediately ejected from that tournament.
2.) Do not spam or flame this thread. This applies for all complaints as well: They must be Pm'd to Me or a Co-Leader.*
3.) Please respect other members and be polite and sporting battlers. Be mature.
4.) As usual ALL serebiiforum rules apply.

Once their stood two great Clans, Team Legacy and Legacy. Each possessed great power and strength and were feared by their peers. However conflict arose, The two giants argued over who had the right to name their sacred clan Legacy. Fuelled by a burning passion for battling and honor the two clans prepared for war; a war so catastrophic it would remain in the archives for the rest of eternity. The day before the war the two clans hung on the precipice, each ultimately facing destruction. All was surely lost, but no! A brave and radical plan emerged, one so dramatic and controversial it was hard to speak of it.... The two Legacies had to merge! The members of the two great clans would-at first- not accept these new terms, but in time they warmed to the idea, and although they had a lustful desire to rip the others to shreds, they cast their differences aside, accepting the fact that they would become one of the most feared and recognized clans in history. Out of the Chaos that had surrounded the two clans for what seemed an age, The Legacy arose! An entirely new super-clan formed of the two ancient giants, a sheer brute force, unrelenting, malicious and unstopable. The Legacy was born!
For more than a year The Legacy reigned. But over time, Legacy began to decay. Ego's collided and members began to lose faith in their leaders... Its once great members departed from the clan, in search of a new place to call home. Slowly The Legacy deteriorated right before everyone's eye. It was clear to many… The Legacy's end was near. The Legacy was retired so that it would not be further tarnished, and from it's ashes two clans rose; The Ascension and Heroes of Myth... Each led by former Legacy leaders, but both clans eventually reached their demise as well. Realizing how much glory The Legacy had back in it's days, a small group of former Legacy members decided that The Legacy should be brought back to life and grow next to many incredible clans. And thus, The Legacy was reborn! A new era has begun! And now, the Legacy is Branching out!
"Tonight We Fight, Tonight We Rise!" – Jahz

Name:
Rate yourself as a battler : /10
Why do you want to join this clan? :
Would you make any improvements? :
Favored position: (This is where you fill in if you want to be a cloner, ev trainer, artist, clan shop employee, etc.)
How do you wish to rank up? : (See below, in ranking systems.)
Did anybody refer you to this clan? If so who is this person? :

rankings listed on Serebii forum branch.

War General-
League Manager- twi
Gym Leaders- Ger9119, PoKe_aRcHeR2010, WolfonDiamond,Megaman12, C-Demo, TWI, squirtleismyhomeboy
Artist- Destroyer39
Clan Relations-