Welcome to the seventh installment of the RSC Cooper Inc Warehouse(RSCCIW)!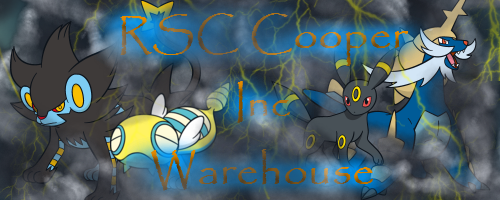 I make sprites, banners, and avatars.
I believe my work is good, and I hope you do too!
Feel free to check out my other RSCCIWs!
III-Evionet.Freesmfhosting.com
IV-Pokefarm.org
V-Fusemon.net
VI-Serebiiforums.com
Here is my work.
Sprites
Avatars
Banners
Here are some examples of what you can request(Not an all-inclusive list! If you don't see what you want here, just tell me!)
Recolor
Fusion
Costume
Mugshot
Animation
Avatar
Banner
Userbar
Re-Type
Pokesona
Pokeball
Runner
Infected
Data
Cosplayer
Trainer
Glow
Trainer Card
PLEASE MAKE REQUESTS!