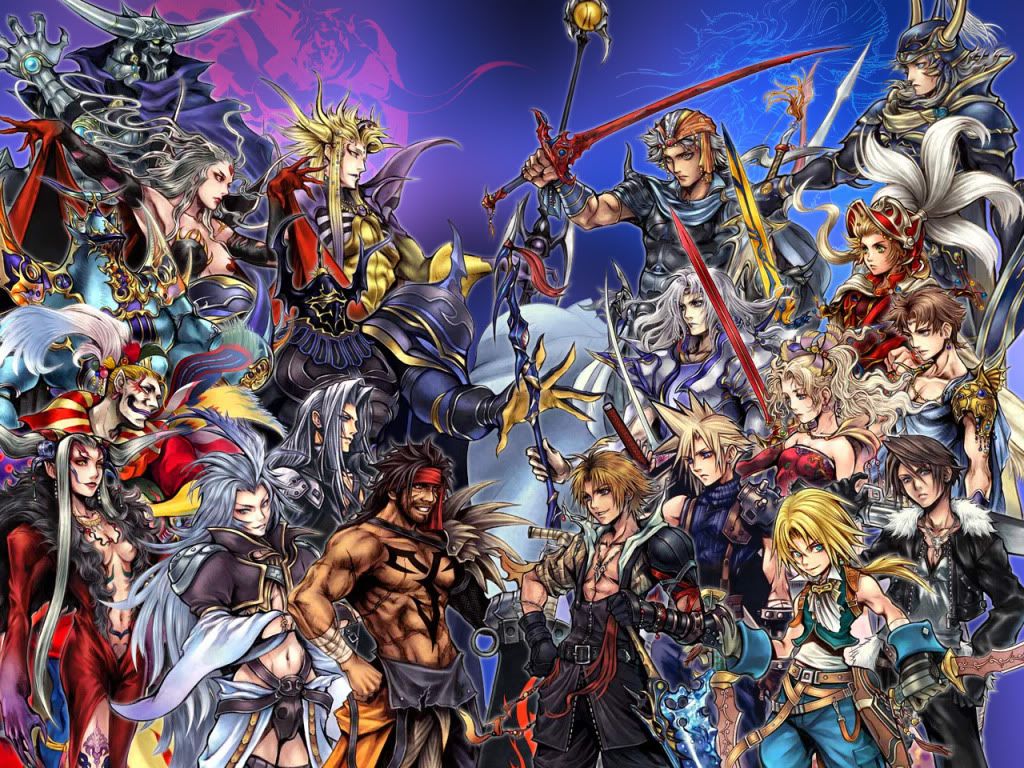 Dissidia: Darkness Reborn
It has been centuries since the end of the seemingly endless cycle of war between the Goddess of Harmony and the God of Discord came to a close. The Goddess of Harmony was revived once the crystals were used by her champions to return to their own worlds and times. The God of Chaos wasput into a stasis after being slain, unable to be sent back as Garland, stopping the cycle from recurring.
However, there was a new force of darkness at work. Several in fact. Three entities who's combined might would cause Chaos' to pale in comparison: Yu-Yevon, Jenova and Necron joined forces to challenge the Goddess of Harmony. While Chaos seeked to rule over all, these three saught something different: total annihilation of all the universes in order to remake them as they so desired.
In the face of these new threats, the Goddess decided to call forth new champions to aid her. While she could have called for those who helped subdue Chaos, the Goddess felt they had more than earned their peace, and thus called for new champions to come to her aid.
The trio of darkness did not waste time, calling forth champions of their own. They cared not whether they fought alongside the God of Chaos or not, only that they would be capable of bringing an end to all of the Goddess of Light's creations so that they could create their own utopias. And beneath this brewing war, Chaos begins to stir. Should Chaos awaken, the cycle of war between Light and Chaos will begin once more.
Rules:
*Obey all PE2K rules
*No Godmodding. Yes this is a PvP RP, but you can't auto-connect hits or dodge everything thrown your way
*You cannot chose any hero that has previously appeared in a Dissidia game, though a villian can. So while Kefka can make an appearance here, you won't be seeing Cloud's emo face
*You may have a max of 2 characters: one on the side of Light, the other on the side of the Dark Trio
*There can only be two good guys and one bad guy from each Final Fantasy
*Your character does not have to be a playable character in the FF series. They can also be an NPC from those games (ie. Biggs & Wedge, Sir Fratley, etc.) However, no KH characters (Sora, Goofy, etc.)
*Keep violence and romance to PG-13 levels
*No one liners! Keep your posts to at least one paragraph
*Stay active! Post a few times a week.If you need your character bunnied, post in the DS thread and someone will help you out.
Profile:
Code:
Name:
Gender:
Final Fantasy: (Which game did your character come from?)
Side: (Light or Dark Trio)
Appearance: (Picture or 1+ paragraph description)

Personality: (1+ Paragraph)
History: (2+ paragraphs)

Weapon(s): (What does your character use in the game that you'll be using here?)
Special Attacks/Spells: (Keep this reasonable)
Mega Attack: (You can only pull this off once per fight)

Theme Song: (Optional)
Other: (Optional)
Accepted:
FFI:
Hero(es):
Villian:
FFII:
Hero(es):
Villian:
FFIII:
Hero(es):
Villian:
FFIV:
Hero(es):
Villian:
FFV:
Hero(es):
Villian:
FFVI:
Hero(es):
Villian:
FFVII:
Hero(es):
Villian: Genesis (Master Zorua)
FFVIII:
Hero(es):
Villian:
FFIX:
Hero(es): Sir 'Iron Tail' Fratley (Master Zorua)
Villian:
FFX:
Hero(es):
Villian:
FFXI:
Hero(es):
Villian:
FFXII:
Hero(es):
Villian:
FFXIII:
Hero(es):
Villian:
Pending:
Rejected: