The Red Viles
~~~~~~~~~~~~~~~~~~~~~~~~~~~~~~~~~~~~~~
The Story
2 years ago a gang called the "Red Viles" caused major destruction and havoc in the small town of Fairview. The usual cases were stealing, kidnapping, and murder. This gang was always on the move, giving the police force a hard time finding them. But, a detective, also known as "The Kane", created a police force that would take down the Red Viles. They succeeded and sent them all to jail. After a celebration, while walking to his car, The Kane was shot in the head with a red painted bullet. The other detectives were shocked to see there hero killed in cold-blood. No one knew who shot him, so the case was closed.
2 years later (Present day), The Red Viles have been spotted in some parts of the town. The new police force must be assembled to stop them and find out who shot "The Kane". So the story continues.....
Your role is to track down the gang members, and bring them to justice. While at the same time, finding out who shot The Kane.
~~~~~~~~~~~~~~~~~~~~~~~~~~~~~~~~~~~~~~
The Town Map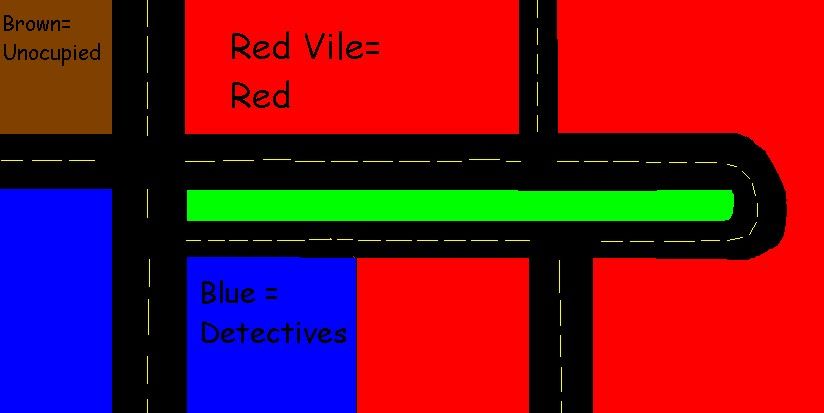 (Its not the best drawing i ever did. Dont laugh)
~~~~~~~~~~~~~~~~~~~~~~~~~~~~~~~~~~~~~~
The Roles
In this RP, There will be the following Parts:
1. The Detectives (Max 4)
3. The Gang members (Red Viles) (Max 8)
~~~~~~~~~~~~~~~~~~~~~~~~~~~~~~~~~~~~~~
The Role Sign-ups
Detective:
-Name-
-Age-
-Gender-
-Personality- (Doesn't have to be long)
-Squad Origin- (This one doesn't matter what you put. Make up anything)
Red Vile Members:
-Name-
-Age-
-Gender-
-Personality- (Doesn't have to be long)
-Crime Committed- (Remember, this is PG-13. Keep the graphics down)
~~~~~~~~~~~~~~~~~~~~~~~~~~~~~~~~~
Notes
(If this dosent pass im done)