Ten trainers shall go on journey to beat the pokemon league save the world and become pokemon masters and hopefully go the other region. They shall travel near each other facing all the gyms. You can also go the other islands to get pokemon when you beat the seventh gym leader. Only 1 ,2,and 3 island you can go. But , after you beat the pokemon league then you can get to islands 4 ,5 ,6 and 7. Also they will have to stop team rocket as a team which will be pretty hard.They must beat the pokemon league to get to the other regions. Also they can compete in tournaments and contest to get the contest ribbons. The world will be at stack if we don't stop team rocket from taking control of Mewtwo. There will be tons of obstacle for these trainers to overcome and together as a team they can do it. You must pick one of starters to start off with. You can't catch lengendaries till after the pokemon league. Everything has to be a challenge so if you want to catch a pokemon you have to try and make it challenging.
Sign up
Name
Age:10-18
Gender: boy or girl
Rival: anyone that signs up can have a rival so.
Apperance: three lines or more or pic
Personality: three lines or more
Starter Pokemon:
Moves: the moves it start with till level 5
Town:The places you start at are Pallet and Viridian
Name Ron Peterson
Age:13
Gender: boy
Rival: someone be my rival when you sign up
Apperance: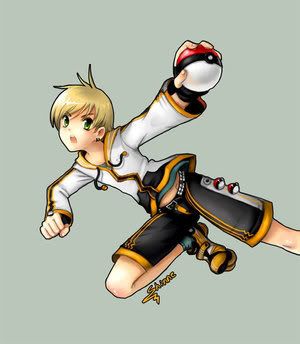 Personality: He is a very hard-working kid. He very intelligent he knows his stuuf about pokemon. He has helped his brother with his pokemon. He is determined to be one of the best trainers in the Kanto. But , he is reckless on the battle field. He do alot of crazy stuff just to save his pokemon. He won't lose with out a fight he's the best of the best.
Starter Pokemon:Squrtle
Moves:
Tackle
Tail Whip
Nothing
Nothing
Town:Pallet town
Hey people please and when you join have fun guys.