All the sprites of mine, good and bad, are posted here. Feel free to use any of them, with credit of course. Credit to Tombi for the Punk palette(the black/pink) and credit to DarkSalamence for the Storm-ridge palette(the blue/green). No stealing my orange and gray palette, Ruinous Sunset(can use with credit though, but can't use my Violet Ocean[see if you can figure out which one that is] ones). Also, credit to Ragon for the Glitch Pokemon. Let's begin! Newer sprites are on top, older ones are on bottom. Keep in mind, some of these are horrible, some of them I just never really gave much attention to, some I rushed, and some I was just inexperienced at(when I was newer to spriting):
Scratch Edits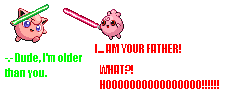 Fusions











Reversed

(totally messed up)


Devamps


(Another total mess-up)
Scratches




Linelesses

Pixel Overs


Holes

Cel-shades

Devils

Fossils
Heroes

Midgets

Re-types

Recolors




Continued on next post.